Aims and Scope
Vincenzo Pizza, Silvana Montella, Eugenio Luigi Iorio, Anna Silvestro, Anella Agresta, Salvatore di Somma, Anna Capasso
---
Introduction:
It is estimated that 46 million people in the world live with dementia and it is estimated that this number will increase 3-fold by 2050, being a leading cause of disability worldwide and major welfare and economic problem. The aging of the general population increase these problems, especially in regions, such as Cilento (Southern Italy), where we can register higher longevity. Preserving cognitive health is one of the most important aims of the current research, also through the identification of possible preventative life-style strategies. Recent meta-analyses suggest that low serum vitamin D concentrations could be associated with Alzheimer's disease (AD) and cognitive impairment. The specific role of Vitamin D, however, is still controversial. There is a growing evidence of high rates of vitamin D deficiency in the elderly and there is still much uncertainty about the cause of AD and other forms of dementia. On the other hand, there is no definitive evidence is not conclusive and vitamin D could be involved in many other physiological and pathological mechanisms.
Objective:
Our aim is to investigate vitamin D serum levels in a small preliminary sample of AD patients from the Cilento area.
Materials and Methods:
Patients were recruited from the AD centre of the San Luca Hospital, in Vallo della Lucania (SA). We enrolled 25 consecutive patients, 13 women, and 12 men. The mean age was 78.5±8.3 years, the mean duration of the disease was 3.5±1.8 years. The average school-age of the patients was 6.1 +/- 3.5 years, the average disease age was 6.3 +/- 1.7 years, the average basal Mini-Mental Score Examination (MMSE) score was 17.6 +/- 3.6. We determined serum 25-hydroxyvitamin D (25[OH]D) in 25 consecutive AD patients.
Results:
The mean vitamin D serum level was 17.9+7.9 UI/ml, denoting a state of insufficiency. Among our 25 patients, only 3 had serum level above 30 UI/ml; most patients (17 out of 25) showed serum level among 10 and 30 UI, while in 5 patients, serum level was less than 10 UI.
Conclusion:
Our preliminary data showed that Vitamin D deficiency was, in our patients, independently associated with AD, even in a special population, high rate of centenarians, like Cilento people. However, our preliminary study has different limitations. The vitamin D deficiency has been evaluated through a single time-point of measurement (or in different periods of the year), that may be susceptible to bias. Even the differences in age and level of education should be taken into consideration. Nevertheless, these data in the Cilento region are original (there are no similar reports to our knowledge). However, our results confirm the necessity of other study, and this result is an important opportunity to introduce a modifiable risk fact and, consequently, a new treatment for AD.
---
September 08, 2020
Edward F. Boumil, Rishel Brenna Vohnoutka, Yuguan Liu, Sangmook Lee, Thomas B Shea
---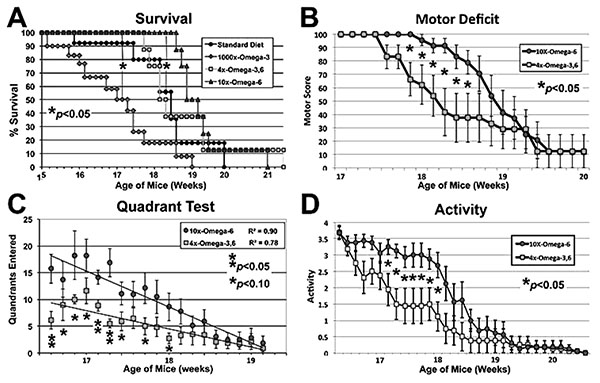 Background:
Amyotrophic lateral sclerosis (ALS) is a progressive disease of motor neurons that has no cure or effective treatment. Any approach that could sustain minor motor function during terminal stages would improve quality of life.
Objective:
We examined the impact of omega-3 (Ω-3) and Ω-6, on motor neuron function in mice expressing mutant human superoxide dismutase-1 (SOD-1), which dominantly confers familial ALS and induces a similar sequence of motor neuron decline and eventual death when expressed in mice.
Method:
Mice received standard diets supplemented with equivalent amounts of Ω-3 and Ω-6 or a 10x increase in Ω-6 with no change in Ω-3 commencing at 4 weeks of age. Motor function and biochemical/histological parameters were assayed by standard methodologies.
Results:
Supplementation with equivalent Ω-3 and Ω-6 hastened motor neuron pathology and death, while 10x Ω-6 with no change in Ω-3 significantly delayed motor neuron pathology, including preservation of minor motor neuron function during the terminal stage.
Conclusion:
In the absence of a cure or treatment, affected individuals may resort to popular nutritional supplements such as Ω-3 as a form of "self-medication". However, our findings and those of other laboratories indicate that such an approach could be harmful. Our findings suggest that a critical balance of Ω-6 and Ω-3 may temporarily preserve motor neuron function during the terminal stages of ALS, which could provide a substantial improvement in quality of life for affected individuals and their caregivers.
---
December 22, 2017