Aims and Scope
Jihad Said Inshasi, Pournamy Sarathchandran, Mona Chetan Thakre, Nouf Saeed Al Talai, Reem Al Suwaidi, Abubaker Al Madani
---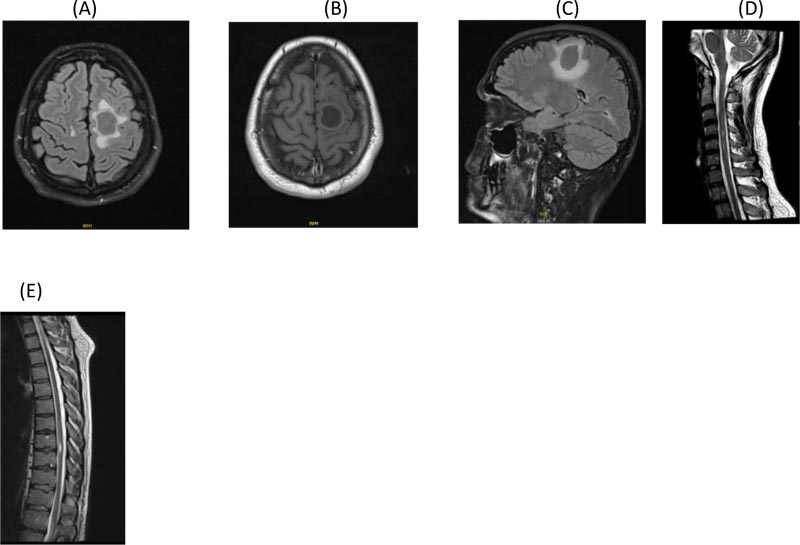 This case report describes a 32-year old Emirati patient with tumefactive multiple sclerosis (TMS) treated with a short course of cladribine tablets. The patient presented initially with acute onset of progressive gait unsteadiness, lower limb weakness, associated with numbness of four days duration. Neurological examination of right arms and both legs weakness with sensory level at T10. Contrast-enhanced magnetic resonance imaging (MRI) of the brain showed a large tumefactive demyelination with multiple demyelinating lesions in the brain, consistent with a diagnosis of multiple sclerosis. MRI of the spine cervical and dorsal revealed multiple enhancing lesions as well. Cerebrospinal fluid oligoclonal bands were positive, and IgG index was high. Magnetic resonance spectroscopy showed elevation of lactate on short echo time (TE) and elevation of choline on long TE. The patient was treated with pulse steroid followed by oral cladribine as immune reconstitution therapy in the acute phase. The patient showed significant improvement clinically and radiologically to the treatment. The patient was followed up for 2 years and showed excellent resolution of the tumefactive lesion with no new lesions. Immune reconstitution therapy can be an option for treatment of tumefactive demyelination in multiple sclerosis in the acute setting. To our knowledge, there are no reports of the use of immune reconstitution therapies for the treatment of tumefactive lesions in multiple sclerosis.
---
December 31, 2020
Edward F. Boumil, Rishel Brenna Vohnoutka, Yuguan Liu, Sangmook Lee, Thomas B Shea
---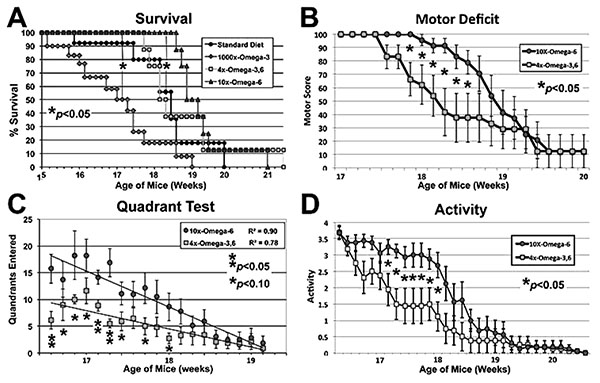 Background:
Amyotrophic lateral sclerosis (ALS) is a progressive disease of motor neurons that has no cure or effective treatment. Any approach that could sustain minor motor function during terminal stages would improve quality of life.
Objective:
We examined the impact of omega-3 (Ω-3) and Ω-6, on motor neuron function in mice expressing mutant human superoxide dismutase-1 (SOD-1), which dominantly confers familial ALS and induces a similar sequence of motor neuron decline and eventual death when expressed in mice.
Method:
Mice received standard diets supplemented with equivalent amounts of Ω-3 and Ω-6 or a 10x increase in Ω-6 with no change in Ω-3 commencing at 4 weeks of age. Motor function and biochemical/histological parameters were assayed by standard methodologies.
Results:
Supplementation with equivalent Ω-3 and Ω-6 hastened motor neuron pathology and death, while 10x Ω-6 with no change in Ω-3 significantly delayed motor neuron pathology, including preservation of minor motor neuron function during the terminal stage.
Conclusion:
In the absence of a cure or treatment, affected individuals may resort to popular nutritional supplements such as Ω-3 as a form of "self-medication". However, our findings and those of other laboratories indicate that such an approach could be harmful. Our findings suggest that a critical balance of Ω-6 and Ω-3 may temporarily preserve motor neuron function during the terminal stages of ALS, which could provide a substantial improvement in quality of life for affected individuals and their caregivers.
---
December 22, 2017