Aims and Scope
Giorgio Attina, Anna Ariano, Palma Maurizi, Silvia Triarico, Michele Antonio Capozza, Paola Coccia, Daniela Rizzo, Stefano Mastrangelo, Antonio Ruggiero
---
In children treated for brain tumors, important deficits in cognitive development have been described. The reduction of Intelligence Quotient (IQ) is correlated with multiple conditions such as tumor location, obstructive hydrocephalus, surgical intervention, and above all, the use of radiotherapy, especially in young children. Demyelinization represents the most striking microscopic alteration following radiation: cerebral white matter's loss and failure to white matter development could partly account for changes in IQ score.
Recently, combined chemo-radiotherapeutic approaches and the improvement of radiotherapy techniques have enabled the reduction of neurocognitive symptoms and improved the standard of life of childhood brain tumor survivors.
---
October 13, 2020
Edward F. Boumil, Rishel Brenna Vohnoutka, Yuguan Liu, Sangmook Lee, Thomas B Shea
---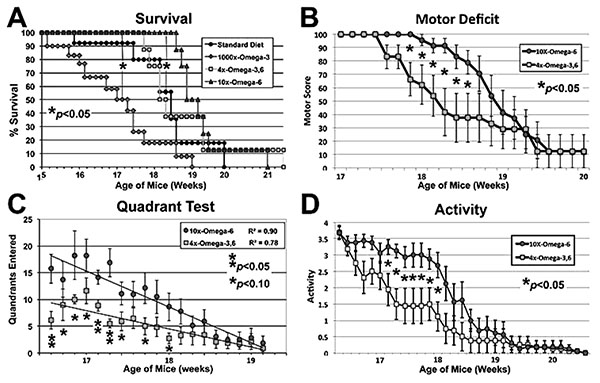 Background:
Amyotrophic lateral sclerosis (ALS) is a progressive disease of motor neurons that has no cure or effective treatment. Any approach that could sustain minor motor function during terminal stages would improve quality of life.
Objective:
We examined the impact of omega-3 (Ω-3) and Ω-6, on motor neuron function in mice expressing mutant human superoxide dismutase-1 (SOD-1), which dominantly confers familial ALS and induces a similar sequence of motor neuron decline and eventual death when expressed in mice.
Method:
Mice received standard diets supplemented with equivalent amounts of Ω-3 and Ω-6 or a 10x increase in Ω-6 with no change in Ω-3 commencing at 4 weeks of age. Motor function and biochemical/histological parameters were assayed by standard methodologies.
Results:
Supplementation with equivalent Ω-3 and Ω-6 hastened motor neuron pathology and death, while 10x Ω-6 with no change in Ω-3 significantly delayed motor neuron pathology, including preservation of minor motor neuron function during the terminal stage.
Conclusion:
In the absence of a cure or treatment, affected individuals may resort to popular nutritional supplements such as Ω-3 as a form of "self-medication". However, our findings and those of other laboratories indicate that such an approach could be harmful. Our findings suggest that a critical balance of Ω-6 and Ω-3 may temporarily preserve motor neuron function during the terminal stages of ALS, which could provide a substantial improvement in quality of life for affected individuals and their caregivers.
---
December 22, 2017